Singapore Grand Prix F1 entrusts PS Energy to power generators that illuminate the night circuit
In 2018, PS Energy was selected by Singapore Grand Prix organisers to provide fuel monitoring solution and fuel supply to power the generators that illuminates the night circuit for the next 3 years.
PS Energy successfully delivers its first lubricant bulk delivery of 19,200 litres of Shell Tellus S2 VX68 to Kim Hock Corporation
PS Energy Pte Ltd (PSE), formerly known as NSL Fuel Management Services Pte Ltd, is a leading fuel and lubricant distributor in Singapore. We have the expertise to recommend and deliver the most reliable lubricant to your equipment efficiently.
Our customised Airport Truck at Changi Airport Cargo Complex
In February 2018, we have successfully constructed a customised road tanker and implemented it in Changi Airport Cargo Complex (CACC) for their refuelling needs. When we first began refuelling services at CACC, customers within were only exposed to conventional refuelling processes which are extremely time consuming and manpower intensive for all parties involved, from operation planners to the ground crew.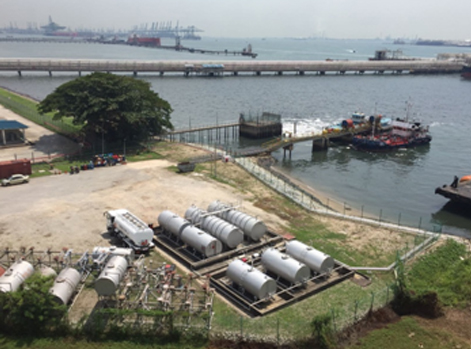 Self-service refuelling at Penjuru Jetty
We officially revamped and automated Penjuru Jetty where shipowners can perform fuss-free self service top up at the fuel dispensing kiosk. This kiosk is capable of monitoring the usage with real-time cloud based fuel management systems, ensuring that there is always a constant supply of fuel for everyone.