Self-service refuelling at Penjuru Jetty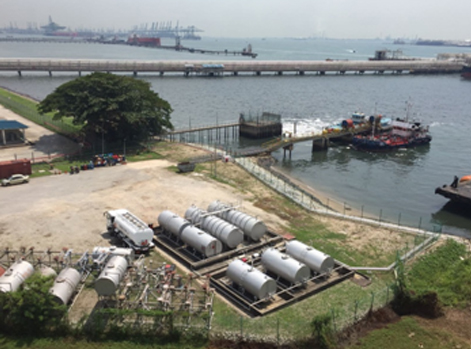 We officially revamped and automated Penjuru Jetty where shipowners can perform fuss-free self service top up at the fuel dispensing kiosk. This kiosk is capable of monitoring the usage with real-time cloud based fuel management systems, ensuring that there is always a constant supply of fuel for everyone.
Before our team took over Penjuru Jetty, the infrastructure of the jetty was obsolete, manpower intensive and constant existence of erroneous reporting. The daily operation of the jetty is extremely time consuming and heavily reliant on manpower such as manual stock taking, presence of attendant to supervise dispensing and issue hand-written receipts.
The challenge was to simplify the refuelling process for marine customers and at the same time implement a secure and reliable system for reporting and accountability.
To achieve this, our team used a combination of customised dispensing infrastructure and fuel level monitoring capability, that are both integrated to a fuel management system.
Built and customised to our requirement for Penjuru Jetty. Source: Alpeco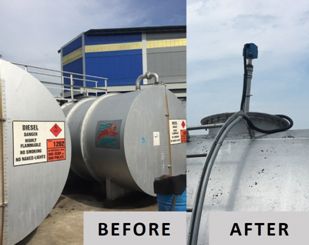 Before: Visual tank gauge; After: Automatic tank gauging device that feeds data to iSupervisor
Tank fuel supply overview from iSupervisor
iSupervisor is able to monitor our inventory level, take full control over dispensing operations, record transaction logs and product reconcile – all done remotely!
With a storage capacity of 180,000 litres installed with monitoring device, we can monitor the stock level instantly through iSupervisor remotely from anywhere and always ensure there is sufficient fuel for everyone, even for urgent orders.
The dispensers were designed to refuel a range of vessels from small boats to big vessels with flow rates of 120-150L/min (top-up) or 600-900L/min (bulk).
As compared to the previous single flow rate of 100-200L/min with a manual hose, marine customers now can reduce their refuelling waiting time by selecting the suitable and faster method which also leads to a lesser queue at the jetty.
Before: Loose hose control system
After: Automatic valve switch between Bulk and Top-up selection, with an auto-rewinder hose each
Before: Hand-written receipt by attendant
After: Automatic dispenser unit with ticket printer and pin-code interface
Each vessel is issued with a unique PIN code that is generated online to dispense fuel so that all transaction details such as time stamp and quantity are all captured safely in the system.
With all the transaction stored in the system, we are able to trace any transaction in case of dispute and even track individual vessel usage for forecasting and reporting.
This secure system also prevents fuel pilferage and unwanted practices that is common in the industry.
To avoid any cases of syphoning and tampering with the fitted electronic metering system, there is a need for it to calibrate to professional standards. Our metering system was awarded SGS Meter Proof Certificate to better serve our customers with reliability and accuracy.
The automated refuelling process at Penjuru Jetty starts with a PIN code entry and ends with a detailed print ticket. Our marine customers benefit from the speedy yet secure checkout process by having lesser waiting time with greater confidence in the transaction.
SGS Meter Proof Certificate awarded to Penjuru Jetty